Members of Southern Hills Baptist Church partner with several national and international Missions groups to make a difference for Christ around the world.​
Ministering in Ghana
Southern Hills Baptist Church members have partnered with a local Ghanian church during several short-term trips to Accra and the surrounding bush country over the past six years. Projects have included, building open-air churches in villages, providing over a dozen freshwater wells for villages, hosting soccer and Bible schools for children, medical missions, hosting church services, and helping individuals with micro-financing and training to start their own businesses and make their own income.
Out of our trips to Ghana three other mission organizations have been birthed through the membership of our church.
Lauren's Lighthouse
Lauren's Lighthouse was built in Ghana, West Africa in memory of Lauren Michelle Crawley. It was dedicated in March 2013 and now a vibrant, growing congregation worships there weekly. In the fall of 2014, a training school for missionary pastors began at Lauren's Lighthouse and four other locations, to equip men and women to start churches in the unreached villages of Ghana. Lauren's dream to take the love of Jesus to those who have never heard is now being fulfilled. Lauren's Lighthouse also has a sponsorship program to help support hardworking, unpaid villages pastors.
For more information on how you can help, please contact us at or visit their Facebook page.
The Pearl House

The Pearl House shelter educates and disciples at-risk young women in under-served communities around the world. Our vision is to empower young women to change their families, their communities, and their nation.
We are inspired by the words of Matthew 13:45-46:
"Again the kingdom of heaven is like a merchant seeking beautiful pearls, who when he had found ONE pearl of great price, went and sold all that he had and bought it".
The Pearl House helps girls discover their identity and purpose in Christ by providing them the following opportunities: physical care, academic instruction, spiritual development, vocational training, recovery/counseling, and livelihood development*. It is our goal that our "Pearls of great price" be empowered to become anything they are called to be, whether a seamstress, a chef, or doctor, or anything!
"Educate a man, you change an individual. Educate a woman, you change a nation." Dr. Aggrey, Africa
Read more about the heart behind this ministry and how God is using it for good at The Pearl House website.
Ministering in Belize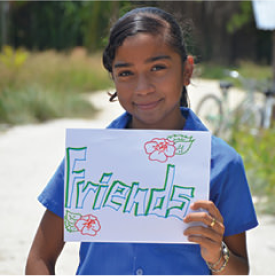 The last two summers we have sent short-term groups to the country of Belize to share the gospel through education, and construction programs. The primary area focus has been with the Ocean Academy High School in Caye Caulker, Belize. Teams have ministered to the students, teachers, and administrators of Caye Caulker by helping them improve facilities through construction, teaching summer school, tutoring students, and helping with staff and student development. Read more about Ocean Academy at https://www.friendsofoceanacademy.com.
Ministering in Mexico
Since 2004 SHBC has sent numerous mission teams to Rio Verde, Mexico. Team members have hosted church services, children's events, and Bible schools, visited prisons, conducted sports camps, built churches, and more. Our Vacation Bible School efforts continue to grow each year from our first visit in 2004 (see pics here) to growing into 15 different locations serving over 700 children in 2021. (see 2021 VBS site videos here) Please keep our 2022 and future plans in your prayers.